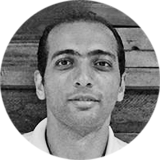 Living to create something new everyday
Hi, my name is Ahmed Elblasy and this small website is my digital playground where you will find some pieces of my work. I'm an architect and an art director with excellent knowledge in finishing and production. I have worked within most areas of design from sketching, 2D and 3D modeling, branding, web, prints, photography, handcraft to full supervision of manufacturing processes with more than 9 years of work experience and continuous learning.
I usually produce my work using:
3ds Max, After Effects, ArchiCAD, AutoCAD, CSS, Flash, Game Maker,
HTML, Illustrator, InDesign, Photoshop, SketchUp, Vray and XD.
My Portfolio